Background
Modern Niagara is one of Canada's largest and most reputable construction services companies. It has locations across the country and specializes in mechanical, electrical, and building services. Modern Niagara is involved in many large projects, such as the West Park Healthcare Centre in Toronto and the New St. Paul's Hospital in Vancouver.
Challenge
Companies like Modern Niagara send out hundreds of proposals and bids yearly to prospective customers. This process is often managed manually across multiple spreadsheets, making it difficult to achieve complete oversight of the sales funnel. This often translates to a lack of visibility and missed opportunities. To this end, Modern Niagara reached out to Alphabyte for a solution to streamline its process of creating and managing proposals.
Fix This for Us!
Modern Niagara struggled with the following questions with regards to its proposals process:
What is the bid status of all proposals within the pipeline?
What is the expected dollar value of outstanding proposals should they convert?
What is the Hit Ratio and Gross Margin %?
How do Sales and Costs break down by Customer and Trade?
How many Labour Resources will be needed to manage work in the coming quarters?
Enterprise Solution
To Address Modern Niagara's challenges, we developed an enterprise-grade Quoting Application to manage their proposals process. This application streamlines the process of creating quotes in the following ways:
Estimators now have a centralized location to manage their bids and proposals. 100s of employees can view, manage and track the complete catalogue of bids and proposals, often collaborating throughout the bidding process: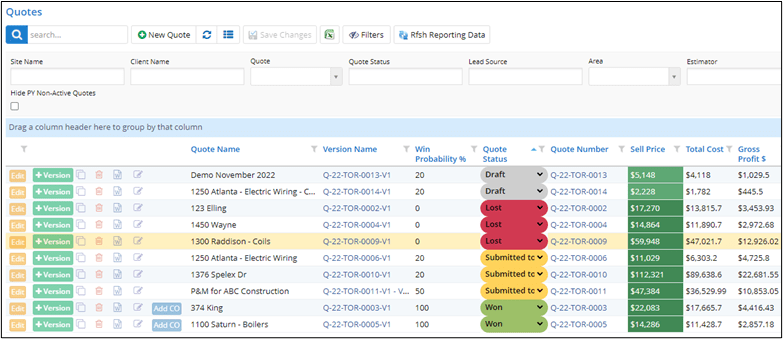 Estimators can create detailed cost breakdowns by Category and Trade to determine pricing:
Once an estimate is created, the Application automatically generates a customizable proposal document that can be sent to clients: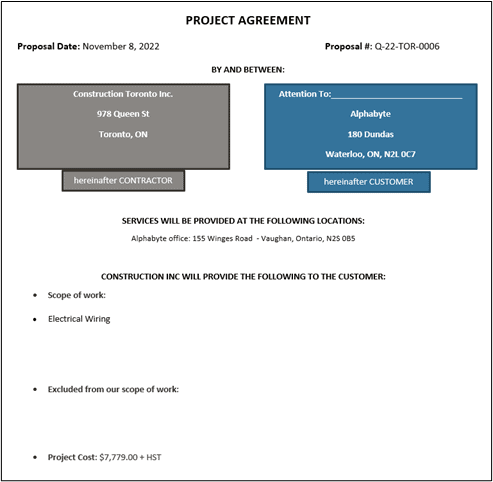 Management has access to reporting (see below) which provides a complete view of bids, key KPIs (Hit Rates, Won and Expected Revenues and Costs, Gross Margin %) as well as the tools to manage resource allocation
A Success Story
Modern Niagara has revamped their proposals process in a way that gives them full visibility into their sales funnel. Hundreds of estimators, analysts, and managers across the company rely on this application to manage their operations and make decisions. Management now has the ability to forecast revenues and set targets for future years by getting a firm grasp on the sales pipeline. This solution ensures that Modern Niagara remains at the technological forefront of its industry.